The first step in planning your finances is to figure out where you really are today with the best home finance software, CalendarBudget. One of the best ways to get started is to complete a Net Worth analysis for yourself. A Net Worth analysis is a snapshot of how much you are worth financially right now. To do this, you should list all of your assets and liabilities with their associated, realistic values.
Use the best home finance software to record assets and liabilities
Assets are anything that when turned into cash gives you some money. Common items are your home, vehicle, bank accounts, retirement savings (401K/RRSP), investments.
Liabilities are things that take money away from you (anything you owe). Common items are mortgage, loan, credit card debt, spousal/child support.
Simply list all your assets first and total them, then list your liabilities and total them. Your Net Worth is assets – liabilities.
This image (taken from Budgets Are Sexy) shows a sample Net Worth analysis. Take a look at Budgets Are Sexy for some great ideas for tracking your net worth monthly to see how you are doing.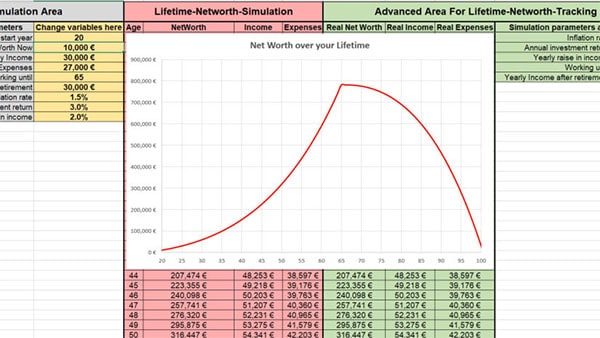 At this stage, we will not go into a detailed look at your spending habits. At this point, we only want a high-level picture of your net worth. Don't be shocked or surprised if your net worth is a negative number. It's quite common, but if this is the case you definitely want to change that!
You'll also need to consider your age and how far you are from retirement. Then we can move to the next step. Step 1 of the financial planning process is more simple if you use personal finance software CalendarBudget. Contact us for the best home finance software and know your net worth.